Awards & Recognitions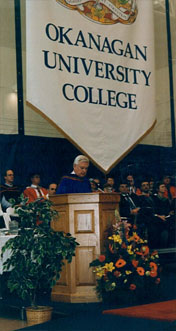 Recognized as Distinguished Alumnus, 1970, Commerce undergraduate Society, University of British Columbia for outstanding contributions to business, the University, and the community.
Awarded the Canadian 1867-1992 Confederation Medal for significant contributions to fellow citizens, community and Canada.
Awarded the Freedom of the City of Oliver, B.C. 1998 for a lifetime commitment to the community.
Awarded Queen Elizabeth II Golden Jubilee Medal 2002 for outstanding achievement in public service.
Recipient of Honorary Doctorate of Laws, Okanagan University College 2003 for service to community, the environment, the regional economy and the promotion of Canada.
Awarded the Freedom of the City of Kelowna, B.C. 2008 in recognition of outstanding and exemplary service to Canada and the community.
Recipient of Westbank First Nation Recognition 2008 in honor and appreciation of a Great Man and protector of the Okanagan Valley and its people.
Recipient of the Order of British Columbia 2009 in recognition of serving with the greatest distinction and excellence in the field of community leadership benefiting the people of the Province of British Columbia for his efforts for the well-being of the environment for the Okanagan and Similkameen, through his support and participation in community services and charities, and for his special concern of the First Nations people which has benefited the Okanagan Nation economically, environmentally and spiritually.
Recipient of Honorary Doctorate of Laws, University of British Columbia, Okanagan Campus, 2012 for unparalleled commitment to community service.